Everything you need on the go!

Being able to take your church wherever you go is something that we have all wanted to do but the inconvenience of carrying all our Coptic church's rituals, liturgical readings, hymns and so on has made it impossible. Now with this application you now have everything gathered in one place and on one single device.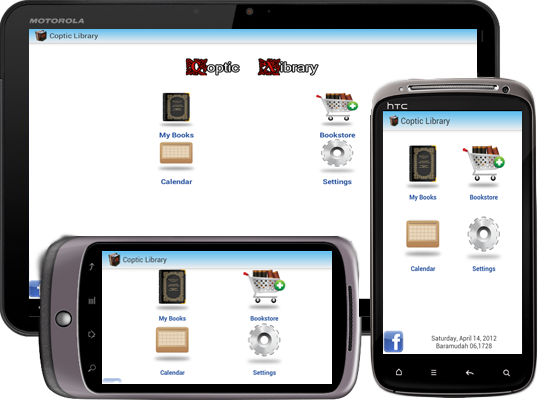 Features
Display text in multiple languages
Choose the order of your languages
Change background color and font size
Assign custom colors to different roles (Bishop, Priest, Deacon, Congregation, etc…)
Hide/Display comments and inaudible prayers
Supported Languages
English
Coptic
Arabic
German
If you would like to contribute another language for any book to this project please get in touch with us by clicking "Leave us Feedback" in the top right corner
Who Are We?
One Coptic Library is an international youth based initiative by St. George and St. Shenouda's Church in Jersey City, NJ United States and St. Antonius Monastery Kröffelbach, Hessen Germany.
Our main goal is to promote unity throughout the Coptic churches through the standardization of all Coptic literature in as many languages as possible.
Who's using One Coptic Library? [39162 users in 138 countries]
Latest News
Version 1 is Released!
We are pleased to announce One Coptic Library is finally released on the Google Play/Android Market. This is just the first of many releases and we hope to hear back from all of you as to how we can tailor this application to the needs of all. Please help us spread the word and keep an eye out for exciting updates to come. If you wish to contact us in reference to anything directly please reach out to us via email at: OneCopticLibrary@gmail.com
Sending your message. Please wait...
Thanks for sending your message! We'll get back to you shortly.
There was a problem sending your message. Please try again.
Please complete all the fields in the form before sending.